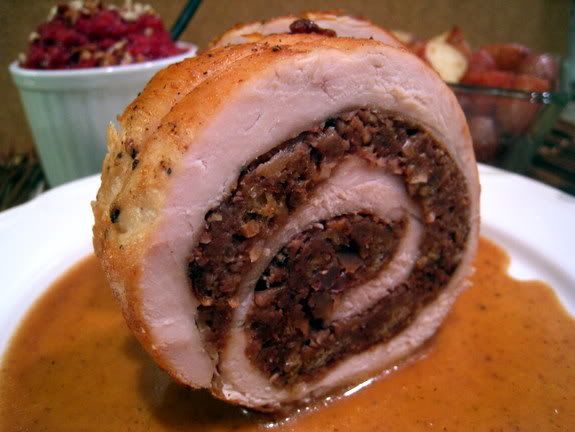 Well, well, well. This week guess who got to choose the recipe for Craving Ellie in My Belly? ME! I chose the
Turkey Roulade with Apple-Cider Gravy
.
This recipe, along with a couple others will even air on Food Network later this month
.
I have several recipes flagged, but I decided on this one because 1) it is November, and though everyone will get their fill of turkey at the end of the month, I thought this might be a good starter for the month and could make a really great lighter Thanksgiving and 2) I just love turkey!
This is my favorite recipe from the book so far. The turkey is tender and the stuffing was flavorful and delicious. This turkey roulade is served with an apple cider 'gravy' too that really helps take it from just a good recipe to a really great recipe.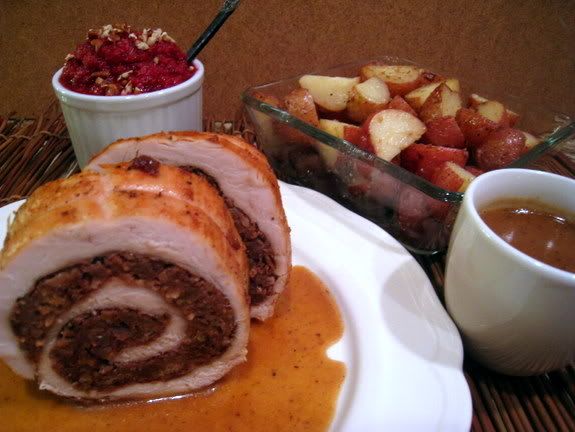 The bread I used for the stuffing was the most multi-grain-ish bread I could find, one called 'health-nut' which I think also added to the great flavor and texture. While this recipe is somewhat involved I didn't think it was overwhelming so.

I took one shortcut that I think, while probably not as healthy, helped save me some time and added to the flavor of the stuffing. Instead of chopping and caramelizing the onion for the stuffing base I just used a package of onion soup mix. I also left out the dried cranberries and made a fresh cranberry relish I've had bookmarked for a while, with a few changes, to serve on the side.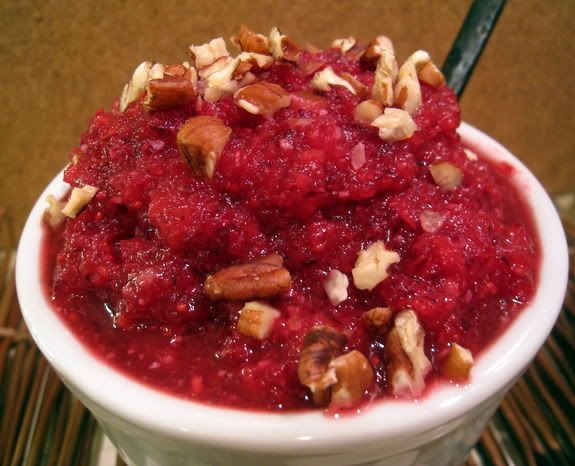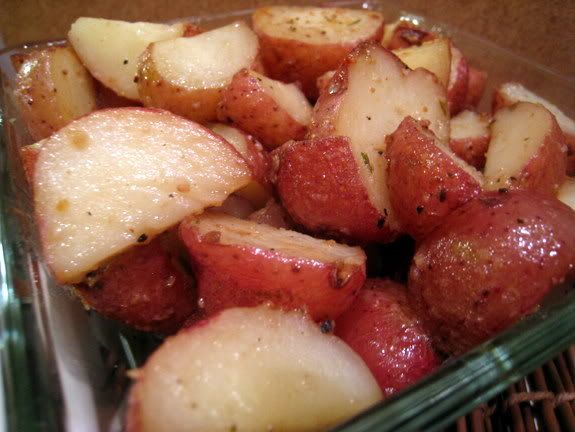 Turkey Roulade with Apple-Cider Gravy
1 (2 1/2-pound) skinless turkey breast, butterflied
1/2 cup dried cranberries (
I left these out of mine)
2 tablespoons canola oil, divided
1/2 large onion, diced (about 1 1/2 cups), plus 1 cup sliced onion
(I used one package of onion soup mix combined with about 2/3 cup of water, plus 1/2 cup sliced onion)
2 large garlic cloves, minced
5 slices day-old whole-wheat bread, crusts removed, cubed (about 2 1/2 cups)
(I left the crusts on and used a multi-grain bread with sunflower seeds in it)
1/3 cup lightly toasted chopped pecans
(I used about 1/2 cup)
2 tablespoons plus 2 teaspoons fresh crumbled sage or 3 teaspoons dried, divided
1 1/2 cups low-sodium chicken broth, divided
1/2 teaspoon salt
1/4 teaspoon freshly ground black pepper
1 cup apple cider
3 tablespoons apple cider vinegar
(I only used about 2 tablespoons)
1 teaspoon cornstarch dissolved in 1 tablespoon cold water
(I just reduced the gravy a bit more until it was the thickness I wanted)

Special equipment: kitchen twine
(cotton twine / string - I just asked my butcher for about 12 inches worth)

Place the turkey breast between 2 sheets of plastic wrap and pound lightly with a meat mallet to an even thickness of about 3/4-inch. Set aside while stuffing is prepared.
Preheat the oven to 375 degrees F.
Place the cranberries in a small saucepan and cover with water. Bring to a boil, cook for 1 minute, then remove from heat, drain and reserve.
(I skipped this since I left the cranberries out).
Heat 2 teaspoons oil in a large heavy skillet over medium heat. Add the diced onions and cook, stirring, until onions are golden but not charred, about 12 to 15 minutes. Add the garlic and cook an additional 2 to 3 minutes.
(This is where I just cooked the garlic in the oil, then added the onion soup mixed with the water to the pan).
Add bread, cranberries, pecans, 2 tablespoons fresh or 2 teaspoons dried sage and 1/2 to 3/4-cup chicken stock, depending upon consistency of stuffing; (you want the mixture to be moistened, but not too wet, since the turkey will release moisture when cooked). Cook over low heat for about 2 to 3 minutes, remove from heat.
Salt and pepper the inside and outside of the turkey breast. Spread the stuffing on the turkey, leaving about 1 1/2 to 2-inches uncovered on all sides. Roll up and secure tightly with kitchen twine, trying to keep all stuffing intact.
Heat 1 tablespoon of canola oil in a large Dutch oven or medium-sized roasting pan until hot. Sear stuffed turkey breast on all sides until lightly browned, 3 to 4 minutes per side. Add sliced onion and 1 1/2 cups chicken stock, cover tightly and roast in the oven until turkey reaches 160 degrees F when an instant-read thermometer is inserted into inner layer of meat, about 60 to 65 minutes. Remove the turkey breast from oven and transfer to a cutting board to rest.
Make the gravy:
Add apple cider, 1/2 cup chicken stock, vinegar and remaining sage to the onions, chicken stock and juices in the roasting pan, bring to a boil and cook for approximately 10 minutes, stirring occasionally, until liquid is reduced by 1/3. Slowly add the cornstarch mixture, stirring constantly, and cook for 3 minutes more. The gravy should not be thick, just slightly thicker than a jus. Season with salt and pepper, to taste. Makes 1 1/2 cups gravy.
Remove twine from turkey breast and slice into 1 1/2-inch thick pieces. Serve with gravy.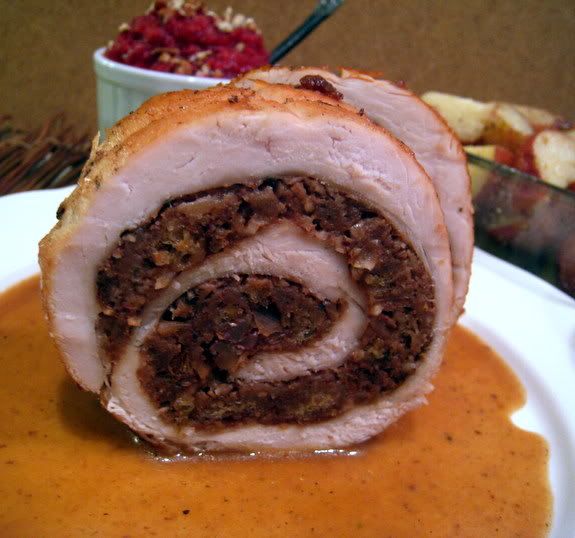 Roasted Baby Red Potatoes
2 lbs baby red potatoes, washed and cut into quarters
1 Tablespoon butter, melted
1 teaspoon vegetable oil
salt and freshly ground pepper to taste
1/2 teaspoon granulated garlic and parsley seasoning (I used McCormick's California Style blend)

Toss the potatoes with all the other ingredients and place in a shallow baking dish in a single layer. Cover with foil and bake at 375 degrees F for 40 minutes. Remove foil and test for tenderness. Allow the potatoes to bake uncovered until the desired tenderness and the potatoes have browned a bit (about 7 minutes).

Cranberry Pear Relish
(Adapted from Food Network)
1 - 12 oz bag fresh cranberries
1 Asian pear, washed and chopped into small pieces
1 tangerine, washed and cut into small wedges, peel and all
1/2 cup light brown sugar
pinch of kosher salt
3 Tablespoons chopped, toasted pecans

Place the tangerine pieces in a food processor and process well. Add the cranberries, pear, brown sugar and salt. Process well until a coarse but small texture. Cover and refrigerate for at least two hours and up to two days. Add the pecans just before serving.