So, yeah. It is Friday night, not Wednesday, but what can you do. It
is a two-fer this week since I'm combining my
Good Wife Wednesday
with my
Kid-Friendly Friday
. I had planned to make the Spaghetti and Meatballs from the
Betty Crocker Picture Cookbook
on Wednesday, but didn't get to it til Thursday. Then I still didn't post, but it qualified as a very kid friendly meal, so I'm just lumping it all together. Aidan had fun helping scoop out the meatballs and it made him more willing to try eating them. Aside from that, the sauce was a good way to get some veggies in, and the next time I try to make this I would probably try sneaking in some carrots too.
I haven't always been much of a fan of meatballs with my spaghetti and generally just prefer the meat in the sauce. While that is still true, I did really enjoy this recipe. The meatballs were mild and tender. They had really good flavor without anything being too overpowering. Also, the sauce turned out really nice and tasted great. Now, I'm not going to tell you that this is the best recipe ever, but it is a pretty darn good jumping off point. It is simple and easy to make. Nothing too fancy or difficult at all and it certainly beats the heck out of buying some mystery meat frozen meatball version.

The recipe makes quite a bit so unless you are feeding 8+ people then plan on having some leftover meatballs in sauce. Since the sauce is nice and thick though I plan to make some of these rolls and have them as meatball subs, so really, you get a bonus meal idea.

Make sure to use good quality ingredients when you are making this because the flavors of your ingredients will really make a difference (ie, use gross bread crumbs, or worse, crummy parmesan and it won't taste as good). I ran out of bread crumbs and actually used about half the amount in ground up Ritz crackers. For the parmesan it is always best if you can buy a block and grated it yourself right before you are going to use it. I like to put a few small chunks in a spice grinder to "grate" it into an almost powder like consistency. You can use any leftovers to sprinkle on top of your pasta.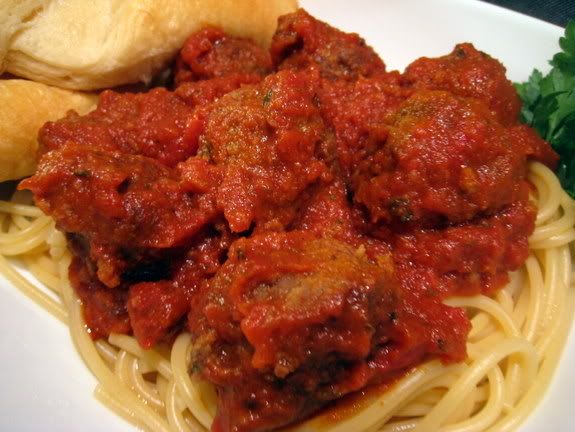 Spaghetti and Meatballs
Mix and form into 1 1/2 inch balls...
3/4 lb ground beef (I used all beef)
1/4 lb ground pork
1 cup fine dry bread crumbs (I used a mixture of dry bread crumbs and Ritz cracker crumbs)
1/2 cup grated Parmesan cheese
1 Tbsp. minced parsley (I used flat-leaf Italian parsley)
2 small cloves garlic, cut fine
1/2 cup milk
2 eggs, beaten
1 1/2 tsp salt
1/8 tsp pepper

Heat 4 Tbsp of extra-virgin olive oil in a large frying pan. Add the meatballs and 1 cup minced onion. Allow the meatballs to brown on all sides, gently turning them or shaking the pan a little to move them around.

Sprinkle the browned meatballs with 2 Tbsp of flour, then add the following and simmer the entire mixture for about 1 hour...
5 cups cooked tomatoes (I used crushed)
6 Tbsp minced parsley
6 Tbsp minced green pepper (I used red)
2 1/2 tsp salt
1/4 tsp pepper
3 tsp sugar
2 small bay leaves, crumbled
1 tsp Worcestershire sauce

Serve hot over hot drained boiled spaghetti noodles. Sprinkle with grated cheese.